You may have heard, but there's a rather sizable event starting this week called the Fifa World Cup. For those of you who don't know...
Of course you already know, and I haven't got it in me to sink to this depth of sarcasm. I love the World Cup. I love it more than you can imagine. Yes, it can be slow and disappointing and ultimately not as good as club football, but to deny that it isn't somewhat magical is to deny yourself the truth. Football (particularly international footy) has the ability to make us humans unite and celebrate like no other power on this Earth.
But this is not a description, analysis of or recap (per se) of World Cups gone by, but, whether you like it or not, you've grown up with the competition. Every four years, it marks a certain point in your life. Where were you then?
Final result: Argentina 3-2 West Germany (yup, still west)
Who was I supporting? Unable to form a logical thought at that point, probably the USSR. Had I been grown up? Probably the stylish Hungarians, even though they had fallen down from their peak on the world stage, lamenting the end of days of Ferenc Puskas past.
Where the heck was I? Just a few months old, so snoring, eating, whinging, pooing myself, relying on the care of others. Depressingly little has changed in just under a quarter century. Let's move on!
Final result: Argentina 0-1 Germany (Berlin wall gone, like full fat milk this time)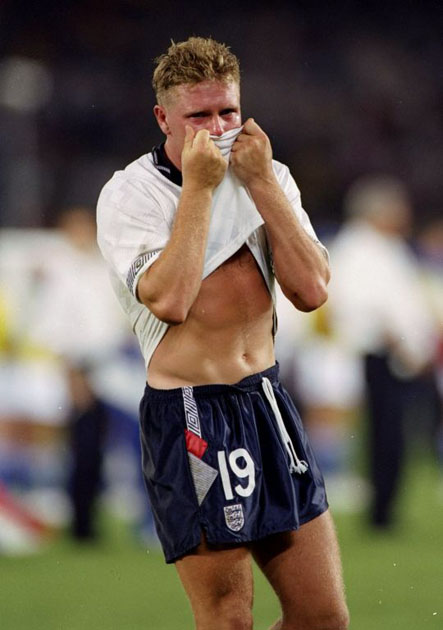 Who was I supporting? This one's a bit of a blur, though I distinctly remember supporting Italy throughout, promptly bawling my eyes out in a cascade of tears once those naughty, naughty Argentines knocked them out in the semi-final in Naples. Maradona knocking out the hosts in the city where he was loved and adored so? This wasn't exactly spilled milk!
Aye? And what happened? The only World Cup final I never (reasonably) watched any of. I thought 'My team were gone, so what was the point?' and found some interesting wallpaper to colour in. Ah I really had so much to learn. Either that or I was both stupid and wrong.
Where the ruddy 'eck was I? Just about to start school.
Final result: Italy 0 (2) - (3) 0 Brazil (First World Cup final ever to be decided on penalties)
Who was I supporting? Ireland, of course. If you're Irish, you'll probably already know about Ray Houghton's (winning) wonder goal against Italy in the group stages. If not,
go enjoy it
. Particularly at 0:15 when, while hugging Houghton, the rest of the Irish players all look at the clock and think "We have to hold on for
HOW
long?!". After Ireland sadly departed the competition, my allegiances once again switched to my Italian brethren.
Right, so how'd it go? I remember this one! Parking my arse on the sitting room floor, little Italy (but not Little Italy) shirt tight to my chest, right fist in the air, left forefinger scratching my navel with nervousness. The final was tense/boring and extra-time was a non-goer. I remember being utterly silent when Roberto Baggio, Italy's most composed player, missed his penalty and Brazil became world champions for a fourth time.
Where the bloody heck was I? Not in a great place - it was nearly my first cataract's first birthday.
Final result: Brazil 0 - 3 France
Who was I supporting? It may seem strange to you, but after the fall of former Yugoslavia, it became very easy to like Croatia. Their first World Cup, only a couple of years old as a nation, full of talented and brilliant players. They were the neutral's favourite and were only knocked out by the eventual winners.
Ok, then what? See, a long long time ago there was a player called Ronaldo. No, not
that
Ronaldo, but a Ronaldo who was a goalscoring machine. A man who never failed at any club he went to. A man who, to this day, still holds the all-time World Cup goalscoring record. His medal case is... well...
momentarily better than
that
Ronaldo's
. Anyway, this was known as 'The Ronaldo Final'. Basically, because the most famous player in the world was terrible and hideously unfit for the match. There are all sorts of conspiracy theories about how Nike pumped him full of painkillers and
forced
him to play.
Where the sodding cake was I? Just enrolled in secondary school. Was about to learn the fine art of puberty.
Final Result: Germany 0 - 2 Brazil
Who was I supporting? Ireland, until they failed. Then the United States, until they failed. Then Spain, for one day. Then Turkey, until they failed. Then anyone but Germany or Brazil.
So... what's the story with that? Roy Keane's walkout of the Irish camp was well-publicised, so I needn't go into it. However it was the beginning of the downfall of the last really good Irish team. After being eliminated, I roared on the US seeing as they had beaten Portugal (no one like Portugal), Mexico (who were palpably better) and then came up against the Germans, who won that particular war. Then Spain, because they were stylish, before predictably failing. Finally Turkey who, through flair and grit, somehow ended up in a World Cup semi-final, getting harshly cheated out of a fair game by a Rivaldo dive (at a corner flag). After that I didn't really care who won the damn thing.
Where in tarnation was I? The silly time difference between GMT and whateverthehellMT it is in Japan and Korea meant that The Junior and Leaving Certificate examinations were on at the time and I was an attendant. It's like being an invigilator, except
outside
the exam hall. I was reading 1984 for the first time and listening to the Ireland-Germany game on the radio headphones. When the commentator shouted that Robbie Keane had equalised in the 92nd minute, I leapt from my seat and silently bounded down the hallway, arms thrown to the sky. After turning a corner, another attendant was at the opposite end of the school and we hopped and skipped into a hug, not unlike that of Rocky Balboa and Apollo Creed in that Rocky IV montage. I sat back down as the head invigilator opened the door. "Any score?" he asked. "Keane in the 92nd minute. 1-1 - result." "Oh right." He said, unmoved. 30 seconds later, that was the loudest and happiest exam hall on the planet.
Final Result: France 1 (3) - (5) 1 Italy (Italy have been involved in the only 2 World Cup final shootouts ever)
Who was I supporting? Argentina (have you noticed that I never yet actually supported the team who ends up winning the damned thing? This makes me tempted to support France this year, but I don't think they need any help from me there). They ended up kicking the living poo out of Germans in the quarter-final, but in a physical and not, y'know, a goalscoring way
Ouch. Then what happened? Despite having the greatest collection of players at the tournament in my eyes, scoring two of the most wonderful goals you could ever hope to see against Serbia in the group stages along the way, they somehow managed to fluff it. I suppose it could be worse for them though - Diego Maradona could be their manag... oh.
Where the criminy funk were you?! I was having what was possibly the most enjoyable time of my life. The weekend of the final was spent at Oxegen, which had Delays, Editors, We Are Scientists, Eels and Artic Monkeys, as well as many more. Great music, plenty of tent drama with the girlfriend (as well as meeting the next girlfriend) and only a bloody World Cup final on a huge TV in the summer sun. I received a half dozen confused phonecalls asking me to confirm sketchy reports that Zidane had been sent off, penalties everywhere had been missed. I thought no one knew what had happened as I watched Grosso score the winning penalty - I rushed to the stage to see Sigur Ros starting their set, their amp stacks draped with a huge Italian flag.
Final result: (hang on, it's not happened yet)
Where will you be? I mean what the Dickens, like? God only knows. Wherever I am, I know I'll be happy and having a good time.